Planning a wedding can be stressful and overwhelming. You want everything to be perfect, and we get that! That's why we offer affordable pricing on our wedding bus rentals in Milwaukee. Our buses come in all sizes, so we have something for every group. Whether you're planning a small intimate ceremony or an extravagant extravaganza, Party Bus Milwaukee will make your special day amazing by providing transportation services just for you.
Wedding Party Bus & Limo
To have a great time holidaying in Milwaukee book one of our party bus rentals that we offer. These come at great prices. You might be here for leisure reasons with family or friends. In order to go about the town in your own time and convenience, our party bus rentals are unparalleled. We have party buses that work great as wedding transportation. For transporting people in bulk to and from the wedding venue or the airport, we have charter buses as well as shuttle buses that come of use. These could be converted into party buses that come with luxury amenities. We have limos for hire as well from our agency service.
Wedding Party Buses & Limo Rentals Near Me

How about booking one of our party bus rental Milwaukee vehicles? These are easily booked on the go. All you need to do is call on the customer care numbers provided. We will help you decide on the model or make of a coach that would fit your requirements.
There are different coaches and buses that we offer in the form of motor coaches, shuttle buses, charter buses and passenger party buses. These can be used to transport passengers from 14 to 50. As per your requirement we will recommend the right coach or bus for you. In case you have need of wedding bus transportation you will be able to get the perfect solution from our agency.
How about booking one of our limo services or premier vehicles for hire? Through our limo service Milwaukee you can access models like the Chrysler 300, Cadillac Escalade, Hummer Limos, Mercedes Benz, BMW, Ford Excursion or Lexus. These can be booked for premier occasions like weddings. They are ideal for transporting guests in small number, whether to and from the airport, wedding venue or other places.
The limos and shuttle buses we offer are best options when people up to 14 in number are traveling.
Wedding Party Bus And Limo Service Prices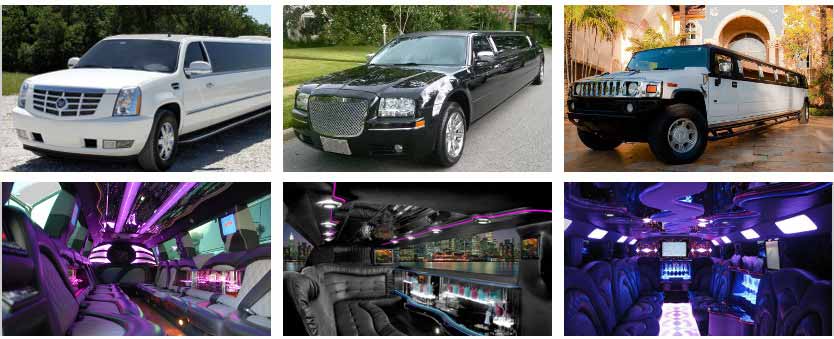 The prices we charge on our party bus rentals and limos are reasonable. These are determined based on the number of people traveling, hours of hire, distance to be covered and amenities you wish to use. We have offered discounts on bulk deals and special offers. There are packages offered which are standard bookings that customers can take up. These make it convenient to make bookings on the phone.
Things To Do

There are several places that you could visit when you are at Milwaukee:
Harley-Davidson Museum; it is a museum where you can find exhibits of the motorcycle company.
Milwaukee Public Museum; it is a state of the art museum where you will find natural history exhibits.
Milwaukee County Zoo; it is a wildlife park that has carousel rides to offer for children.
Milwaukee Art Museum; it is an architectural landmark that you will love to check out.
These are some of the several places to see with our buses on rent. We have several party buses and coaches on hire which are ideal for going on trips with your own group.
Why Choose Party Bus Milwaukee?
Whether you're looking for a limo to take you from your bridal shower to the venue, or want to rent a bus for your bachelor/bachelorette party, we've got what you need. With Party Bus Milwaukee, you can be sure that any vehicle you choose will be comfortable and safe. Not only do we have a wide range of vehicles to suit every taste and budget, but we also have a large base of repeat customers who keep coming back because they know they'll get top-notch service each and every time. And if something does go wrong (and it almost never does), don't worry—our team is here to help!
Affordable Pricing on Wedding Bus Rentals
We are a full-service transportation company that offers wedding bus rentals at affordable prices. Our pricing is based on the following: The number of guests. The number of hours needed for your event. The distance you will be traveling (This includes additional mileage fees for each mile traveled). Number of buses needed for your event, including one or two buses. Additional drivers may be requested at an additional cost. One or two stops may also be added to your itinerary at an additional cost.
Travel Across All Distances
You may be surprised to hear that we can travel to all of your wedding locations, no matter how far. We have the largest fleet in the area, and our drivers know the roads like the back of their hands. With this combination, you can be sure that your guests will get where they need to go safely and on time.
Perfect Wedding Locations In Milwaukee
Milwaukee is a beautiful city to get married in, and you'll have no shortage of great wedding venues to choose from. There are plenty of options for all budgets, so you can be sure that your day will go off without a hitch. Here are some of my favorite wedding venues in Milwaukee: The Majestic Theater is an iconic venue with high ceilings and huge chandeliers. You'll feel like royalty in this space! The Pfister Hotel has a stunning red staircase leading to an elegant ballroom where your guests will enjoy a cocktail hour before the reception begins. The rooftop patio also boasts amazing views of the city skyline at night—a perfect setting for your first dance as husband and wife (or maybe even during cocktail hour). Venue MKE offers three unique spaces for your ceremony or reception: A restored 1920s theater space; an intimate contemporary room with exposed brick walls and natural light; and an open-air courtyard surrounded by greenery that overlooks downtown Milwaukee's skyline at nightfall!
What Are Wedding Party Buses?
Getting to and from your wedding can be a hassle. But with Party Bus Milwaukee as your transportation service, that's not going to be a problem! We offer party buses for weddings that you can use to travel to and from the ceremony, reception, and other wedding events. Our luxury vehicles come in many different styles and colors so you can pick one that matches your unique personality or theme. They have comfortable seats and large windows so everyone gets a great view of their surroundings. You will love how much fun it is when you ride around in one of our party buses!
How Getting Limo Service Will Make Your Wedding Night Great
When it comes to your wedding, transportation is a crucial element that can make or break the entire event. Your guests and family members will think of your transportation as a reflection of your care for them and their comfort levels at your wedding. With reliable and comfortable transportation, everyone will be able to get back home safely after their long day at the reception hall. The most important thing about having reliable and comfortable mode of transportation on your wedding night is that you end up saving lots of money in the long run by not having to rent multiple cars for all those who wish to attend your event. This allows you to put more money towards other aspects of planning such as venue decoration or catering services!
Travel Between Ceremony & Reception
In addition to ensuring that the ceremony and reception are in the same location, it's important that you have a driver who can get you from one location to another. This is especially true if there is going to be a separation between your ceremony and reception as this will require additional transportation time. It's vital that your guests arrive at both locations on time, so make sure they have plenty of time between events so they don't miss anything! You also want someone who knows their way around town and knows how long it takes different routes. Something as simple as knowing which roads are blocked off due to construction could save precious minutes at an already stressful event like yours!
Pre-Wedding Event Private Buses
A pre-wedding event is an occasion where you and your guests get together to celebrate before the big day. It could be a rehearsal dinner, bachelor or bachelorette parties, bridal showers, and even just an informal gathering of friends and family members. A private bus is a vehicle that can transport large groups of people from one place to another without needing to worry about parking or traffic issues. When you want to make sure everyone has a safe ride home after drinking at your pre-wedding party or any other event where there may be alcohol involved then taking advantage of our wedding transportation rentals will give them peace of mind knowing they won't have any problems getting home safely. As with all types of vehicles that we offer for rent we have all different sizes available so that you can pick one that fits perfectly with your needs whether it's getting from Point A (the party) To Point B (home), getting around town on the weekends when it's busy downtown streets, or picking up people who aren't able walk much further than their front doorsteps!
Which Wedding Bus Rental Is Right For My Group?
You've got a lot of options for your transportation, but we're here to help you narrow them down. We'll start with the most popular: Party Bus Rental – Your group will be able to enjoy the spaciousness and comfort of our party bus. This is the perfect choice if you have a large group that wants to travel in style, as it can accommodate up to 24 people. The interior has plush leather seating with tables for food or drinks. You also get an LCD TV screen, surround sound system and mood lighting inside! There's even plenty of storage space if anyone wants to bring their luggage along for the ride! Limousine Bus Rental – If you prefer something sleeker than a big bus, this option might be right up your alley! Our limos have ample room for all your guests (up to 15 passengers) with features like individual climate control systems and flat screen TVs so everyone can watch their favorite shows while they travel together as one big happy family!
Our Fleet of Limousines and Party Buses
When it comes to transportation for your wedding, we have a fleet of vehicles that can accommodate any size wedding. Our fleet includes party buses, limousines and other specialty vehicles. Our rates are excellent, with multiple pricing options available depending on what you need. We also provide a variety of vehicle types and styles as well as colors to choose from so you can make your transportation as unique as your wedding day!
Steps To Rent Your Limo, Party Bus, or Charter Bus
Call us to book your transportation. Provide us with the details of your trip, including locations and times. We will send a confirmation email within 24 hours (or less) of receiving your information. This email notifies you that we have received it, and it is not an invoice or contract (as they come later). It only serves as notice that we've received all the necessary information from you in order to start planning for your trip. If you haven't heard back within 24 hours after sending us your information, feel free to give us a call so we can make sure that everything has been received properly!