How Much Does It Cost For A Party Bus in Milwaukee?
A Party Bus can range in price based on your needs. Sometimes it's even more effective to get a party bus than a limo, as it seats more passengers. A common rate for party bus is $90 to $250 an hour depending on how many people you plan to bring, pick up and drop off location.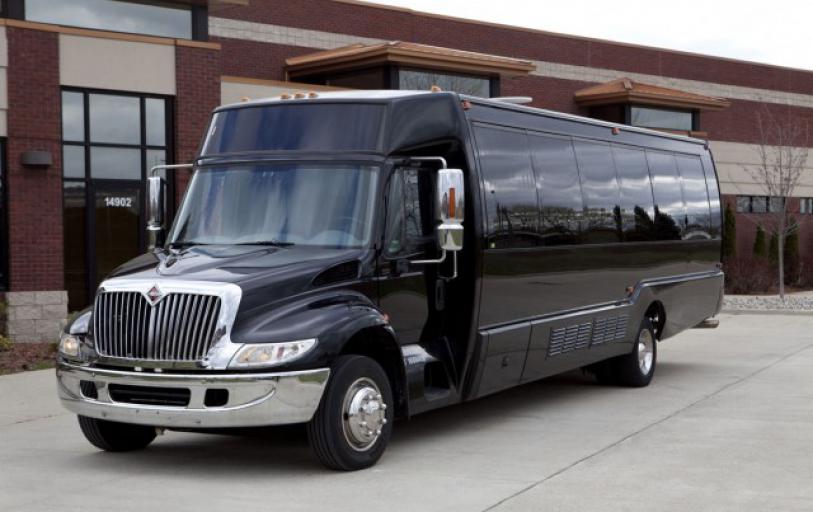 | Vehicle Type | Vehicle Passengers | Hourly Rates* |
| --- | --- | --- |
| 8 Passenger Limo | Up To 8 | $20-$35 |
| 10 Passenger Limo | Up To 10 | $30-$45 |
| 15 Passenger Limo | Up To 15 | $45-$55 |
| 20 Passenger Limo | Up To 20 | $65-$85 |
| 18 Passenger Party Bus | Up To 18 | $85-$100 |
| 20 Passenger Party Bus | Up To 20 | $100-$120 |
| 22 Passenger Party Bus | Up To 22 | $120-$140 |
| 25 Passenger Party Bus | Up To 25 | $140-$120 |
| 50 Passenger Charter Bus | Up To 50 | $160-$200 |
| 56 Passenger Charter Bus | Up To 56 | $200-$400 |
| 36 Passenger Shuttle Bus | Up To 36 | $150-$300 |
| 40 Person Shuttle Bus | Up To 40 | $150-$300 |
What is a Party Bus?
You have a couple options when thinking about a party bus, you can get a Party Bus or a Limo. Both types of vehicles are great options as they can seat from (10 people) to large groups (40-50 people). The party bus is very much like a limo, the driver becomes your own personal chauffeur. There is an array of different types of cars to suit your different taste and the mood for your overall event. Pick and choose whatever style, color and feel you want for your car and have a fun time with your friends and loved ones.
How many people fit in a party bus?
When planning to book a party bus, there are many options to seeing what best fits your needs. There is different kinds and different sizes of vehicles such as a Party Bus, Charter Bus, or a Limousine to safely and comfortably transport your group to your event. A normal sized Party Bus can seat anywhere from 12 to 28 passengers. However, a Limousine or SUV is ideal for 6-12 passengers
Where to go on a party bus?
School Events
Weddings
Birthday Parties
Prom
Night Out With the girls.
Bachelor/Bachelorette Party
Corporate Events
Sporting Events
How much do you tip a limo driver?
When thinking about what to tip your limo driver, there are few things you should keep in mind. To start, think about how was the overall service, timeliness, or the condition of the vehicle you received. A good rule of thumb is to tip about 20% of the price, if the service was overall a great experience.
What size and what type of Party Bus should I get?
When planning to book a party bus, there are many options to seeing what best fits your needs. There is different kinds and different sizes of vehicles such as a Party Bus, Charter Bus, or a Limousine to safely and comfortably transport your group to your event. A normal sized Party Bus can seat anywhere from 12 to 28 passengers. However, a Limousine or SUV is ideal for 6-12 passengers
How old do you have to be to be in a party bus?
If the trip is a nighttime bar event, everyone on the bus must be 21 years of age. The only exceptions are when we are going somewhere that the people under the age of 21 can get into.
How Much Is a Limo Rental?
The cost of renting a limo or party bus depends on how long you need the vehicle and what type of vehicle it is. For example, if you're going to be using the limo for an hour and it seats eight people, then your hourly rate would be $200 ($24 per person). The same applies for a shuttle bus that seats 25 passengers—it would be $600 per hour (or $20 per person). For most occasions, the average number of people who will ride in a charter bus tends to be 20-25. However, there are often more passengers than that on occasion due to children under three years old riding free with paying adults or having extra friends tag along when they see how awesome the trip is going to be! In this case, round up your estimate by adding an extra five percent onto whatever total you come up with as your total cost for renting out a charter bus.
What Are People Saying About Limos in Milwaukee?
People are saying that they're great. They're reliable, affordable and fun! Limos are a great option for weddings, parties and birthdays.
What Vehicles Do You Offer for Hire?
We offer a wide variety of vehicles for hire. Your options include:
Party bus rentals
Limo rentals
Shuttle bus rentals
Minibus rentals (ideal for group travel)
Limousine vehicles and other luxury cars with drivers
How Do I Set up a Custom Charter Bus Rental to Milwaukee?
To set up a custom charter bus rental to Milwaukee, call us at 800-843-6463. We'll ask you some questions about your trip and find the best route for you. We will then send an email with the details of your trip and a link to our booking form so that you can reserve it online or by phone.
What Are Your Rates?
When it comes to making a decision about which vehicle you will use for your next event, there are many factors that come into play. You may be wondering what your rates are going to be and whether or not they're going to affect the quality of service you receive. The best way we can help you determine this is by giving you a breakdown of our rates: What are the different rates for different services? Rental service: The price depends on how long or where you need us to drive; if it's an hour-long trip, we would charge less than if it were two hours. The other major factor is mileage; depending on how far away from our location in Los Angeles County, CA we need travel will also determine what kind of rate could apply.* What are the different rates for different vehicles? Hummer H2 Limo Bus: This has two floors inside with seating capacity up to 30 people (including driver). It costs $450 per hour plus $35 per additional person over 20 people.* What are the different rates for different times of day? There aren't any significant differences between morning/afternoon/evening times when comparing hourly rentals with hourly rentals; however, since weekends tend not include business executives working late nights during weekdays (which means more demand) weekend prices will be slightly higher than weekday prices.
How Much Is It to Rent a Party Bus in Wisconsin?
Party bus rental costs vary based on the size of the bus. Party buses are typically more expensive than limos and taxis, but less expensive than Uber or Lyft. You can expect to pay between $1,000 and $2,000 per day for most party bus rentals.
What Are the Prices for Bus Rentals?
If you're wondering about the cost of bus rentals, the answer depends on several factors. The most important question to ask yourself is: How big and how long do I need my bus? If you're planning a weekend trip with your friends, a small shuttle bus may suffice. But if you're looking for something more luxurious, like an executive coach or luxury charter bus, then it might be more worthwhile to go for one of those instead. If you know exactly what kind of vehicle size and duration that suits your needs best and are ready to book now, we can help! Just give us a call or fill out our online form with your details and let's get started!
How Much Is a Limo in Wisconsin?
The cost of a limo in Wisconsin varies depending on the size and features of the vehicle. Generally, pricing is based on per hour, per day or per week rates. Most companies will quote you different rates based on how many passengers you want to transport during your ride.
How Far in Advance Do I Need to Make a Reservation?
You can make your reservation up to 30 days in advance. Additionally, if you would like to have direct contact with one of our drivers or bus attendants during your trip, then we recommend booking at least 2 hours in advance. This will allow them enough time to get there before they need to start heading back towards their base location. However, if it's less than 30 minutes prior to when you need transportation then please give us a call directly and we'll do everything we can to accommodate you!
What Is the Largest Size Party Bus?
The largest size party bus available is 72 passengers, but there are also 42, 26, and 14 passenger options. The average party bus can accommodate up to 32 passengers.
What Is a Private Ride?
A private ride is when you drive around in a limo or party bus. Unlike group transportation, which we'll discuss later, there are no scheduled stops where other passengers will be picked up or dropped off. You can stop at any place that strikes your fancy on the way to your final destination—or take detours if you'd like! You can also go anywhere in the city or suburbs of Chicago area as long as it's within city limits and does not require crossing state lines (which only party buses are allowed to do). Your private ride will allow you to bring as many people with as much stuff into the vehicle as you need for your trip; this is unlike public transportation where everyone has their own seat and space for luggage, bags etcetera. In addition, all drinks, food and snacks are included with every limo rental package; so don't worry about packing them!
What Is Your Service Area?
Our service area covers the entire state of Wisconsin. We also provide services to Chicago and its surrounding suburbs, as well as Milwaukee and Jefferson County. Our fleet of vehicles is available for travel throughout the Midwest, including Madison, Oshkosh, Green Bay, Appleton, Kenosha/Racine (including Sturtevant), Janesville/Fond du Lac/Sheboygan
How Much Do Limos Cost in Milwaukee?
There are so many factors that go into pricing a limo or bus rental, but the more information you have on hand when you're planning your event, the better. For example, if you book in advance and know how many people will be attending your event (and thus how much space they'll take up), it's easy to calculate an approximate cost based on distance traveled. You can also find average prices for specific types of vehicles by checking out our list here.